Lately one of my newest food blog obsessions is
Everybody Likes Sandwiches
. It's got great recipes and the pictures are so pretty to look at. As I was browsing through some past entries on said flog, I came across this recipe for Walnut Oat Burgers. I've been wanting to try a hand at making my own veggie burgers for a while now, and this recipe seemed like the perfect endeavor.
I'm happy to report that these burgers came out great. They were so so good I don't ever want to see a soy burger again in my life!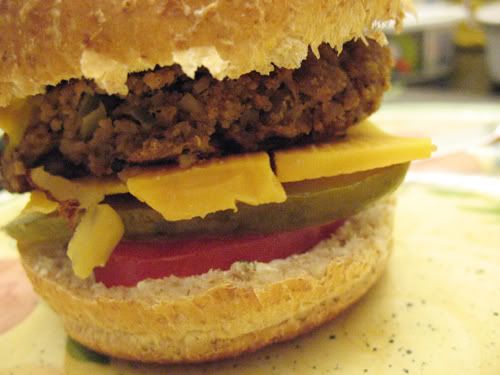 They are also much healthier then soy patties. Since a large ammount of the mix is made up of ground walnuts, and walnuts are one of the World's Healthiest Foods, I have no qualms to treating myself to a burger now.
And the recipe seems easy enough to follow too. I only say that it
seems
easy enough because for whatever reason, I had a few troubles following it this afternoon. I'm not sure why, but I mixed up the bread crumb measurement and I forgot to add milk. The bread crumb situation rectified itself easily enough, I just ended up scooping some out of the rest of the mixture. The lack of milk however, was most likely the reason for the tiniest problem I had with these burgers. As a few of them fell apart. They buckled from the pressure of me trying to flip them on the first go. However, the strong ones survived and they were happily devoured by me and my family members who were brave enough to try them.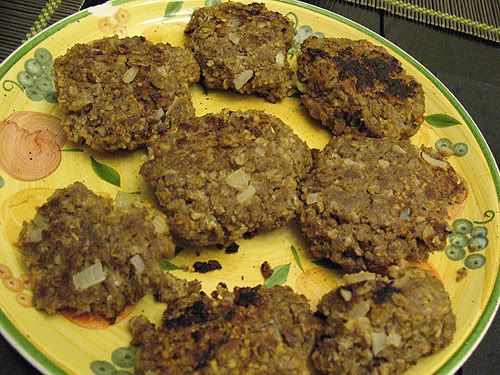 The recipe:
Walnut Oat Burgers
(Courtesy of
Everybody Likes Sandwiches
burger mixture:
2 cups walnut pieces
2 cups rolled oats
½ cup breadcrumbs
3 eggs, slightly beaten
½ cup skim milk
1 onion, chopped fine
3 cloves garlic, minced
1 tsp sage*
1 tsp salt
freshly ground black pepper to taste
for cooking burgers:
oil to brown patties
3 cups vegetable stock
1. Grind walnuts in blender and combine with the rest of the burger mixture ingredients. Let the mixture rest in refrigerator for about an hour to let the flavors meld together.
2. Form the mixture into patties. The entire mixture will make 8-12 burgers depending on the size patty formed. It is recommended to use half of the mixture now, and reserve the rest for use in another recipe or for more burgers later.
3. Brown patties on both sides in a lightly oiled skillet, then pour the stock into the skillet and bring to a boil. Reduce heat and simmer, covered, for 25 minutes. Serve on buns with all your burger fixings.
*I didn't have any sage on hand so I just used some ramdom herb and garlic seasoning I found in my pantry. They still tasted great.
Now the perfect side to this dish? Home baked taco fries.
They are a tastier and healthier alternative to those gross fries out of a bag from the freezer. Also, they couldn't be easier to make. This recipe is just an approximate guess of what I did, as there is really no need to measure with something like this.
First preheat your oven to 375. Clean and chop 5 medium sized russet potatoes. Slice into small strips, or cut into wedges. Whatever thickness you desire will work. Once all potatoes have been cleaned and chopped, throw into a large bowl. Toss slices with a few tbsp of extra virgin olive oil, a tiny pinch of salt, and liberal shakes of chili powder and garlic powder. You can also use taco mix, but since there is a lot of added sodium with that I'd reccomend using your own spices.
Once all the pieces are coated, place them on a baking sheet lined with parchment paper. Cook them for about 30-40 mins, or until cooked and crispy.