This past Saturday morning I woke up to a shock. When I got upstairs to fix my breakfast, there was a bounty of vegetables on my kitchen table! Since this is a rare sight in my house unless i've been shopping I began to wonder if somehow I had gone sleep grocery shopping the past night. I figured out what really happened though when my dad came into the room and got all excited about the vegetables before me. He then informed me that this bounty was all from the farmers market. Wait, the farmers market? In March? With a foot of snow on the ground? Blasphemy!
As pathetic as it is, my almost 19 year old self had never realized that the market is open in the colder months. Growing up the sporadic visits to the market my parents took me on were always in the summer, so I guess my sub-concious always figured that since I only went in the summer, that the market was only open in the summer. Nope. Turns out my parents are just a bunch of sissies who don't like buying good produce if it requires going out in the cold. I guess my dad was just feeling brave this past Saturday, which I am grateful for as these veggies were wonderful. I didn't snap a picture, but included in the bounty was: butter leaf lettuce, green beans, baby potatoes, tomatoes, and cucumbers. All organic too!
So Saturday before work I roasted some of the pretty little organic tomatoes with some asparagus I had in the fridge, and drizzled them with some balsamic vinegar. It was a great little salad. I didn't take a picture though, and since I think posting a recipe without a picture is pointless, i'll leave it at that.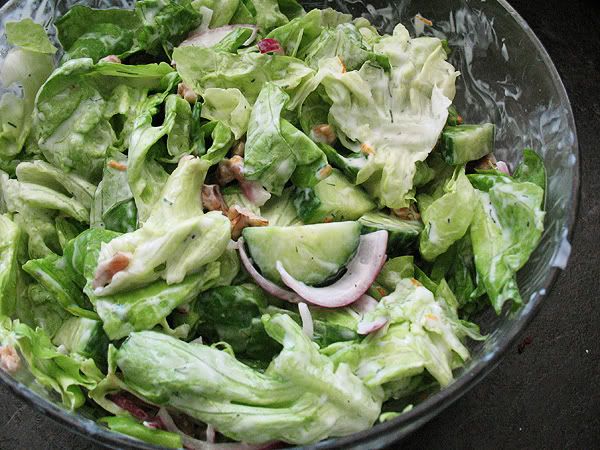 What I did make sure to take a picture of, was the resulting salad that came from the head of butter leaf lettuce. I had only had butter leaf lettuce once before, at a cafe where it was served with an amazing orange dressing. The flavors went so beautifully together that I knew i'd need to re-create a similar taste for this lettuce. So I went off of a recipe I recieved from a co-worker, adding some newer flavors I thought might be nice. The result was wonderful. It had creamy ingredients but still tasted light. The only change I might make is to add some dijon mustard to the next dressing, or perhaps a bit more vinegar, just to get a bit more bite out of them.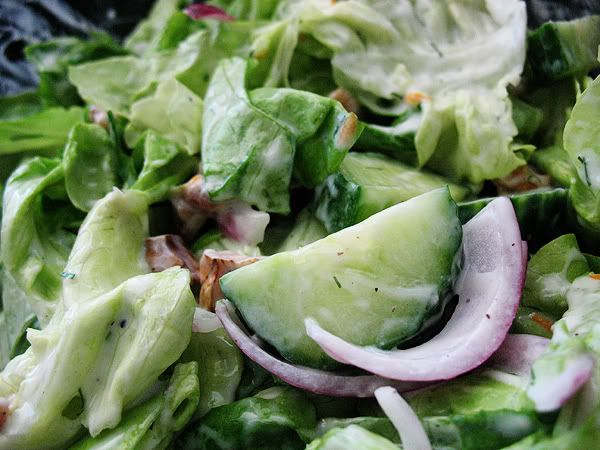 I'm calling this "Hope of Spring Salad" because even though there is snow all over, and the temperature is still below 0 (celcius) everyday, this salad helped me to believe spring might, at some point happen.
Ingridients:
1 head butter leaf lettuce (other lettuces will work)
1/2 red onion, thinly sliced
1/2 cup chopped walnuts
1 cucumber, sliced in half circles
dressing:
2 tbs light sour cream
2 tbs light miracle whip
1/4 cup white vinegar
juice of 1/2 an orange
zest of one orange
1 tbs dill
pinch of salt and pepper
Wash and tear the lettuce leaves and thinly slice the onions. Mix with the walnuts and set aside.
In a small bowl, mix all dressing ingredients together with a whisk. Incorporate to the salad and serve right away.
(serves around 4 as a side salad.)