First I'm going to start of by saying what a bad blogger I have been. For a while I was in a cooking rut, not really making anything worthy of a post here. That was my excuse to not fill this flog with food. But that rut was quite short lived, for lately I have been making some pretty awesome things. I've managed perfect crepes, a roasted veggie and cous cous salad, a spicy tofu soup, pan-fried oatmeal, and many others! Now I am just relying on terrible excuses to not post. Things like "Well I can't take a picture, because my family is here." (They know I have a food blog, but I still get weird looks whenever I choose to photograph food. It brings on too many questions.) Another reason is that my kitchen is upstairs, while by bedroom in the basement. My camera is always kept in my room. And as much as I hate to admit it, most of the time I am too hungry/lazy to take a trip down the stairs to grab my camera. Also there is the procrastionation factor. "I'll post about it later..." and then later never comes. I made a Yule Log for christmas that I still haven't bothered to post about! (But I really don't think I will now...It seems a little too late for that. A mention is all the Yule Log will get.)
I'm ready for all of these pathetic excuses to come to an end. I promise to be a better blogger. I've even signed up for some blogging events, which i'm hoping will motivate me to get more active in this blog. (And maybe get me some visitors so that I don't feel like I'm blogging to myself...)
And now, onto the food.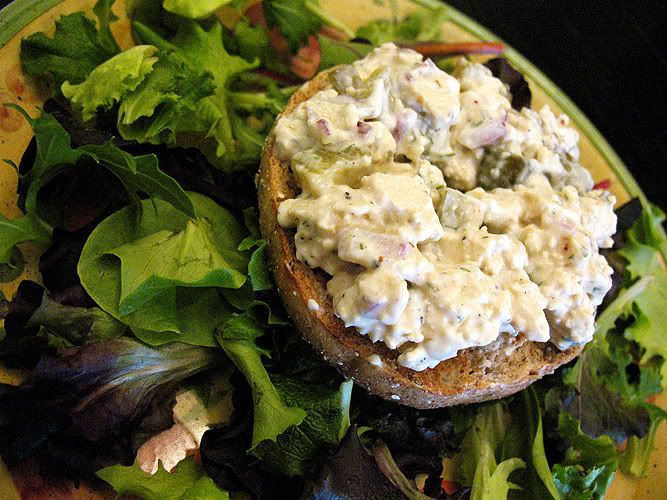 Today I tried out a tofu salad recipe I found from
Everybody Likes Sandwiches
. I found it a while ago, and have been meaning to try it. Today finally seemed the right time since the only food I had in my kitchen happened to go in this recipe!
Tofu Salad
(from
Everybody Likes Sandwiches
)
1/2 cup mayo or soynaise (I used light miracle whip)
1 Tbsp yellow mustard (I used dijion)
1 block of firm tofu, crumbled
1 tsp capers
2 Tbsp chopped pickles
2 Tbsp finely diced onions
juice & zest of 1/2 lemon
pepper
(these next three ingredients were from the original post, but I didn't have them and so I substituted them for the following ingredients. )
1/2 tsp garlic powder
1 tsp curry paste (or powder)
1 tsp honey (optional)
2 tsp garlic seasoning
1 tsp chili powder
2 tsp dill
In a medium sized bowl, mix together the mayo and mustard. Add in the crumbled tofu and combine well. Stir in the rest of the ingredients, mixing well after each addition. Let mixture sit for half an hour to let flavours develop. Spread on toasted bread.
I'm really happy with how this salad came out. I can see myself packing this in my lunch quite often from now on.