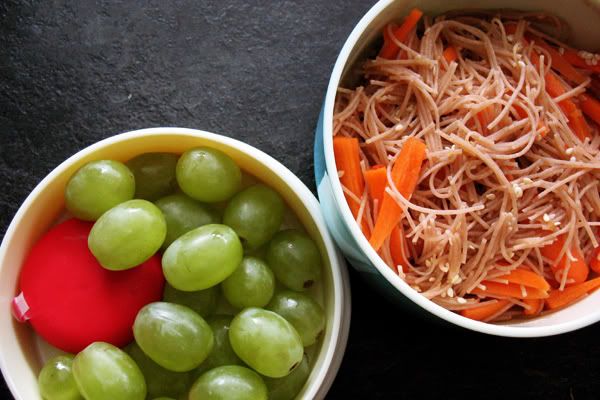 For a long time now i've been a fan of
Vegan Lunch Box
. It's actually one of the food blogs that inspired me to start my own. Even though I discovered it near the end of it's run, I still like to browse the archives for some lunch ideas. Ever since my discovery of that site i've longed for my very own laptop lunch box that is featured with every lunch. It's such a great way to cut down on plastic bags and bulky tupperware. But do I have one? No. Here is where the story gets a bit silly. Even though there is a retailer near me that sells the very lunch box, I never am in that part of town so I still have not got my hands on it. What's silly is that I do have other bento lunch boxes that I just ordered from
J-List
. Kind of odd how items from Japan are more convenient to buy then ones right in my own city!
Anyways, onto the bento!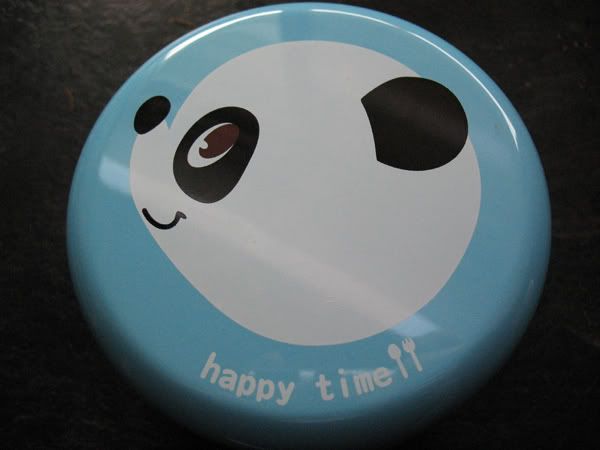 This is the cute little panda box I used to pack todays lunch. It's got two tiers that fit inside.
I received these cute little boxes in the mail last week while I was out of town, and today was finally the right day to break one in. The food featured is nothing real special, since I haven't had a chance to go grocery shopping since my return. (I had to work all weekend-bleh!) And all my family knows how to buy is white bread, milk, and lunch meat. (Ew.)
Since grapes and baby cheese is pretty basic, i'll share how I spiced up these carrots and asian brown rice vermicelli noodles. It's also quite basic, but they're pretty tasty! Making these is even too easy for a real recipe.
All you need to do is toss together the following:
Brown Rice Vermicelli noodles, cooked
baby carrots, julienned
sesame seeds
now add a few flavors to taste:
soy sauce
sesme oil
rice or red wine vinegar
red chili flakes
I usually add more vinegar than soy sauce since I like things with a bite, then just a little bit of sesame oil to add some sweetness. These levels can be adjusted to personal preference.
Since carrots were the only veggie I had in my fridge (really, I'm not exaggerating!) that's all I added. In the past I've also tried this same recipe with green or red onions, peppers, and peas. Black beans are also a nice addition to this, but I was running low on time as I was making this before work today.
More bentos to come!