Last night as I was making dinner, I was faced with the usual problem that always greets me when I open the fridge. A lack of vegetables. As a vegetarian who is trying to eat healthy, a lack of vegetables can be very disheartening. Usually when this happens I give in to a box of macaroni or other pasta, and declare defeat. But last night I was determined, so I took the only two veggies I had in my fridge. Sugar snap peas and baby carrots. And while the idea of peas and carrots may seem boring and bland to some, I assure you the flavor is anything but.
In fact, I loved it so much that when I got home from work today I decided to make it again, with a few modifications. I used butter to make it the first night, but I went for some good ol' E.V.O.O. this time around. I liked it a lot better using the oil, since using butter made it taste too...buttery. (I wonder why?) And I'm not the biggest fan of butter.
The recipe is based off of one found in "The Essential Vegetarian Cookbook".
Spiced Up Peas and Carrots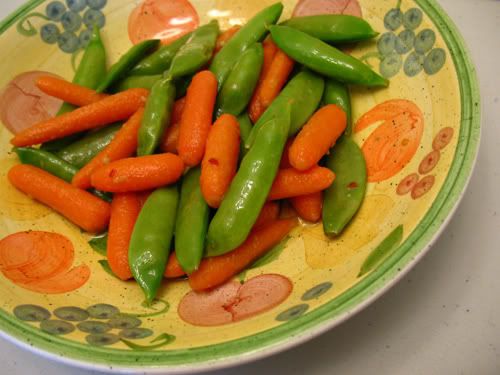 What you will need:
4 tbsp Extra Virgin Olive Oil, or butter
3 tbsp Lime Juice
1 clove Garlic
1/2 tsp Red Chili Flakes
1/2 tsp Brown Sugar
1/2 cup Baby Carrots
1/2 cup Snap Peas
salt and pepper to taste
Please note that the ingredients are all a rough measure of what actually goes in there. I tend not to measure things when cooking (why create more dishes?), so use your judgement if something looks off.
First heat up your butter or oil in a pan on medium heat. Add the garlic, and let simmer for a bit. Then add the lime juice, and the brown sugar. Let sit until all the sugar is dissolved. Once it forms a kind of sauce, add the snap peas and baby carrots.* Let this all simmer together for a few minutes, until the veggies are slightly cooked, but still have a good crunch. Then toss them with the red chili flakes. The chili flakes sure add spice, so only add them if you like heat.
-The recipe also called for lime zest, but seeing as I wasn't using a fresh lime I had none to add.
-Don't have a lime or any lime juice? A lemon will work fine.
*For the carrots, you can leave them whole or cut them in half, lengthwise. Doing so will make them cook faster.
If you are lazy like me, you can just leave the carrots as is and add them to the pan first, let them cook a bit, then add the peas after 1-2 min.