The inspiration for the following recipe came from two sources. The first, being a cooking show on PBS. (A cooking show on PBS? Who'da thunk it?) And the second, from my desire to be the biggest possible sponge on my parents whilst I can, by bringing my lunches to work instead of going to booster juice and spending $10 a day of my own money.
Now more on the PBS show. It was a lazy saturday morning and I was in the basement watching tv. My father came downstairs and stole the remote from me. He flipped channels until landing on PBS, which was airing a cooking show. Since I am obsessed with food, I tolerated this. The hosts were just about to embark on a macaroni salad. And though i've never really liked macaroni salad all that much, the recipe inspired me. Over a week went by and I couldn't get the macaroni salad off my mind. I'm not sure of why that is, but I am glad for my fascination, because this salad came out great.
I think the reason it got to me was that the host added the spices before adding the mayo. She claimed that it was more important to
flavor
the pasta, then flavor the sauce. It seems like such a simple idea, but I had never seen anything like it before.
So I took that nugget of knowledge with me as I finally embarked on making this salad. Though as I stated, I've never felt that much love for a macaroni salad. This one was different though. I just knew it.
And was I right! This tasted so much lighter and fresher then most macaroni salads. Unlike the traditional macaroni salad, these little noodles were not swimming in mayo, just slightly tossed in it.
So here is my modified recipe of macaroni salad. I adjusted it a bit, adding a few more flavors and a lot more lemon. Hence the name of this recipe. I also used miracle whip instead of mayo. Since I prefer it in my sandwiches, I thought "why not in my salad as well?" I'd also like to point out how ridiculously easy this salad is to make!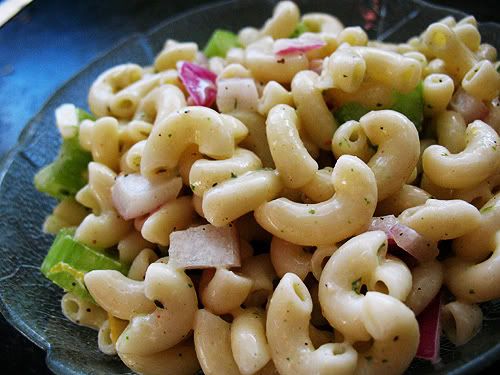 Light and Lemony Macaroni Salad
1/2 box of Macaroni, cooked al dente and cooled
2-3 Stalks of Celery, chopped
1/2 red onion, chopped
1 clove of garlic, finely chopped
1 lemon, juiced plus zest
2 cubes frozen parsley (this was all I had, if you are using fresh then i'd go with a few tablespoons, then adding more to taste if needed.)
1 tsp chili powder
dash of salt and pepper
1/2 cup of miracle whip, or mayonaise.
Cook and drain the macaroni. Rinse with cold water, and transfer to a large bowl. Add chopped celery, onion, garlic, lemon zest, parsley, chili powder, and salt and pepper. Let sit in the fridge for about half an hour. Take the pasta out and toss it with the miracle whip and lemon juice.
I really loved this salad. It was easy, light, and so flavorful. I know it will be one I will fall back on in the future for lunches. My wallet is quite pleased because of this.