After being a vegetarian for nearly five years, I had never had lentils until a few months ago. I had always thought about it, and I really did want to try lentils, but I was always too afraid to go for it. Eventually I did get around to consuming lentils when I found them in a canned lentil soup, which magically appeared in my pantry one day.
I quite enjoyed the soup, and made a vow to try and partake of more lentils in my diet. Until recently though, I had never found much reason to try them. Then I found
this
lentil chili recipe and it inspired me. I tired it out and was in love.
So ever since falling in love with lentils from that recipe, I have decided to try out more recipes with lentils.
Then as fate would have it, I recently caught an episode of Good Eats devoted
entirely to lentils!
I made a vow to try out at least one of the recipes.
As a part of my crusade to find healthy baked items, I decided to go for the Lentil Cookies. Now, when I first heard dear Alton utter lentils and cookies in the same sentence, I thought he was crazy. As much as I love him I could just not get behind this idea. Even after seeing him make them and devour them I still wasn't sold. Then, and I'm not sure when or why- but sometime this past week I found myself ready and willing to give them a try.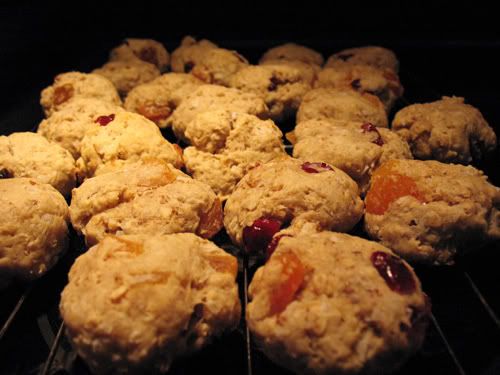 They certainly are very appealing health wise. The recipe calls for whole wheat flour, dried fruit, oats, and (obviously) lentils. I also decided to personally up the nutrition in these babies by replacing the sugar with Splenda and adding some flax.
For my dried fruit I decided to use my two favorites, craisins, and dried apricots. They ended up being quite the pair.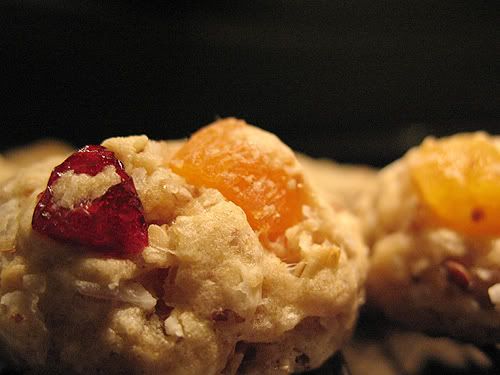 The only issue I have with these is that I'm not sure what to call them. On the one hand they are sweet like cookies, and they kind of remind me of an oatmeal cookie, so calling it a cookie makes sense.
On the other hand, they came out shaped like little biscuits, and are quite round and dense. Not like the traditional cookie.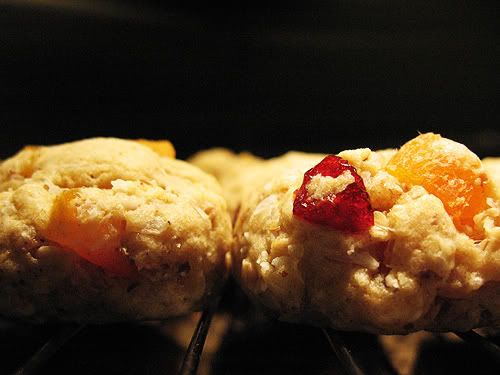 Also telling people I made lentil cookies usually results in them looking at me like I am crazy and shaking their head in disgust.
They also kind of remind me of these "cookies" that always pop up during christmas time. They're about the size of a quarter but very thick, kind of the same idea as these lentil cookies. They've got jam in the middle and walnuts all around the dough part. They are dry and bland and I've always found them useless. In my humble opinion, these lentil cookies are a million times better then the dry jam cookies of Christmas past, present, and future.
But in the end it doesn't really matter what they are called, what matters is that they are delicious, and that everyone should try them! (No matter how skeptical you may be.)
Lentil "Cookies"
(Courtesy of God
Alton Brown
)
2 cups whole-wheat pastry flour*
1 teaspoon baking powder
1 teaspoon salt
1 1/2 teaspoons ground cinnamon
1/2 teaspoon ground allspice**
I cup sugar***
3/4 cup unsalted butter, room temperature
1 egg
2 teaspoons vanilla extract
1 1/2 cups lentil puree, recipe follows
1 cup rolled oats
1 cup dried fruit
1 cup unsweetened dried shredded coconut
2 tbsp ground flax seed
*I am just realizing now that I did not use pastry flour, but regular whole wheat flour. They still turned out though.
**I didn't have any allspice, so I substituted this for ground cloves.
***As I mentioned above, I replaced the sugar with Splenda.
Preheat the oven to 375 degrees F.
In a medium bowl, combine the flour, baking powder, salt, cinnamon and allspice (or cloves).
In the bowl of a stand-mixer with a whisk attachment, cream together the sugar and butter on medium speed. Add the egg and mix until just incorporated. Add the vanilla and lentil puree and mix until combined. Add the flour mixture and blend on low speed until just combined. Remove the bowl from the mixer and stir in the oats, dried fruit, coconut and ground flax seed.
Form the dough into balls about 2 teaspoons in size and place on a baking sheet with parchment paper, leaving about 1-inch of room in between. Bake for 15 to 17 minutes, or until an internal temperature of 195 degrees F is reached on an instant-read thermometer.
Lentil Puree:
4 ounces lentils, approximately 2/3 cup, picked over and rinsed
2 cups water
In a small pot over medium heat, combine the lentils and the water. Bring to a simmer, cover, and simmer for 30 to 40 minutes, or until lentils are tender. Remove from the heat and puree. If using immediately, let cool. The puree may be stored in the refrigerator for 3 to 4 days or in the freezer for 2 to 3 months.
Yield: 1 1/2 cups lentil puree