A while back I caught an episode of
Eat, Shrink and Be Merry
on the food network. To me it's one of those shows that sounds really good in theory, but it always comes up short when I watch it. I think the reason for not fully embracing this show could be the dynamic between the two sisters. The blonde one is very bossy and controlling in the kitchen. She always seems annoyed and pissed off at the other sister. This reminds me a little too much of the dynamic in my own kitchen, between my younger sister and I. (My sister being the bossy mean controlling one.) It's not that fun to live, and it's not that fun to watch.
But despite my psychological issues, I still try to tune in every now and then for a new healthy recipe to try out. The latest episode I saw was titled:
"Little Miss Muffin Tops"
. The recipe sounded easy and really good. Lately i've been trying to only bake healthy things, and these fit the bill perfectly. So I decided to try these out. But since mid-episode I got distracted by 90210, I missed the part about how they go about baking only the tops. So when I made these I decided to go all out and just make full on muffins.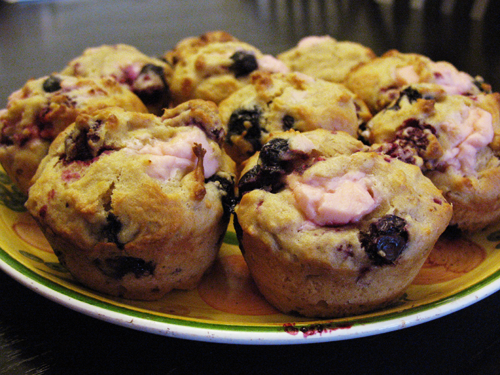 Since I'm always a bit apprehensive to change a baking recipe, I followed this one almost perfectly. I felt confident in my idea this time though, since all it involved was adding some flax. Ever since I bought a big bag of flax seed a while back, I try to add it to as many recipes as possible. I also upped the ratio of raspberries to blueberries since I had a small selection of decent blueberries to work with.
"Little Miss Muffin Tops"
(Courtesy of the food network.)
Ingredients:
Dry ingredients
1 1/4 cups all-purpose flour
3/4 cup whole wheat flour
1 1/2 teaspoons baking powder
1 tsp baking soda
1/2 tsp salt
1 tbsp ground flax seed
Wet ingredients
1 cup low-fat vanilla flavoured yogurt
1/2 cup lightly packed brown sugar
1/4 cup vegetable oil
1 x egg
Grated zest of one large lemon
2 Tbsps freshly squeezed lemon juice
2/3 cup fresh blueberries
2/3 cup fresh raspberries
12 teaspoons light strawberry cream cheese (Philadelphia brand)
Directions:
Dry ingredients
Preheat oven to 375°F. Spray 2 muffin-top pans lightly with cooking spray and set aside.
Combine dry ingredients in a large bowl.
Wet ingredients
Whisk together wet ingredients in a medium bowl. Add wet ingredients to dry ingredients and mix just until dry ingredients are moistened. Fold in blueberries and raspberries.
Divide batter evenly among 12 muffin-top cups. Hide 1 tsp cream cheese in the centre of each muffin. Bake for about 12 minutes, or until muffin tops are puffed up and a toothpick inserted in centre comes out clean. Remove from pans and cool on a wire rack. Serve warm.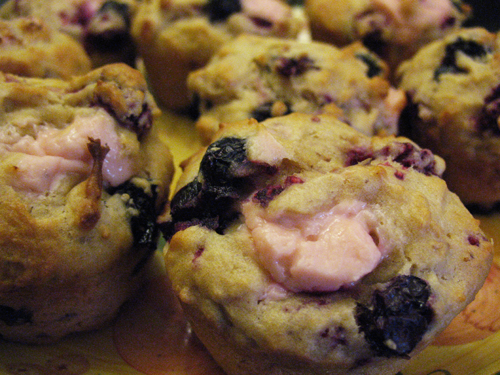 I am very happy to report that these turned out great. The only thing missing was more of a lemon flavor, which was lacking since I omitted the zest. (As I have no method to zest a lemon.) I'd also like to try these again but with a bit more whole wheat flour and less regular flour. I found myself wanting them to taste more grainy, and I think more whole wheat could fix that.