So much for my last post...it's been almost a month and i've hardly blogged! I was kind of in a cooking rut I guess...so...moving on.
Yesterday was one of those desperate food days. I was away on vacation for the past week, and when I got home I saw how very apparent it is that I am the only one in my family that buys real food! I came home to a near empty fridge, filled with only milk, leftovers, and a few condiments. And since I hadn't had a chance for a decent shopping trip yet, my only lunch option was macaroni and cheese. But I wanted something more. I wanted to make something, as I hadn't been able to cook for the past week. I'll talk more about my culinary adventures from my trip later, but right now the magic tofu will take center flog: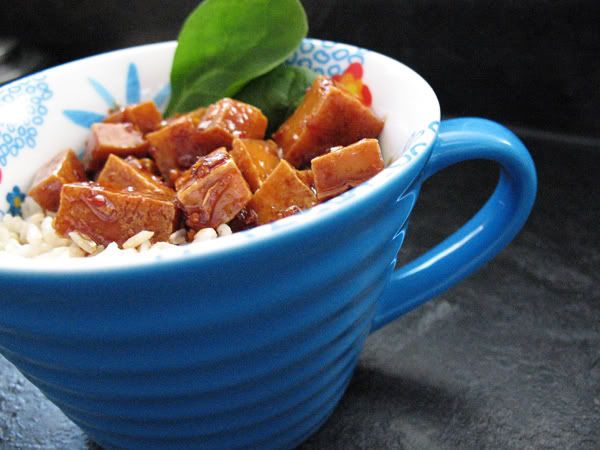 I found this recipe for Tofu "Magic" a while ago at
Eat Me, Delicous
and while it sounded great, It didn't really move me to make it right away. But as I previously mentioned, there is little to no food in my house. So I started with a base food, brown rice. I put on a pot and then went online to frantically search for something to go with it. As I came across some archived recipes, I found the one for tofu magic. I then got really excited when I remembered that there just might be a block of tofu in the fridge.
As it turns out, I didn't have any tofu. I actually didn't have any ingredients needed for the magic tofu. But my mind, my heart, and my stomach would take nothing but this recipe. So as the rice finished cooking I walked over to the grocery store and bought what was needed. It was a warm day, and fate seemed to be on my side just this once.
So thank you, fate. For bringing me to this recipe. It really is magic! For as long as i've been a vegetarian i've strived and searched for the perfect tofu. Crispy, yet tender...flavorful but not overpowering... this tofu is fits the bill!
I think the trick to is perfection is the frying of the tofu intially, then making more of a reduction then a sauce with only a few ingredients. It was such a quick and easy recipe to make to!
I chose to serve it with brown rice (as mentioned) and baby spinach. While there are a few leaves poking out of the mug (yes, I eat out of mugs!) there was also a little bundle under the rice. The heat from the rice and tofu wilted that spinach right up, and the mix was marvelous.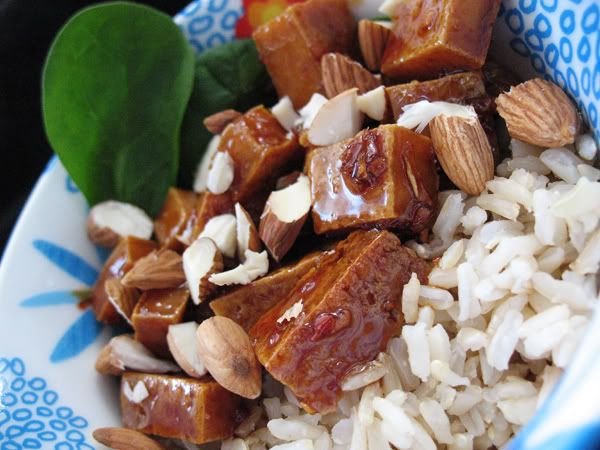 As a I went to retrieve this recipe again to post, I noticed that the recipe itself isn't called Tofu Magic, but "Matthew's Delicous Tofu". No matter what it is called, it is amazing and all should try it out!
Matthew's Delicious Tofu
Thanks to
Eat Me, Delicous
, via The Garden of Vegan
2-3 servings (with rice)
1 lb medium firm tofu, chopped
2 tbsp olive oil
3 cloves garlic, minced
1 tbsp fresh ginger, grated
1/4 tsp dried chili, or 1 tsp Asian chili sauce
1/8 cup maple syrup
1/8 cup Braggs or soy sauce
1 tsp lemon juice
1/4 cup dry roasted almonds, chopped (garnish)
In a medium saucepan on medium-high heat, saute the tofu in oil until browned. Reduce heat to medium-low and add the garlic, ginger, and chili. Saute for 5 minutes. Add the maple syrup, Braggs (or soy sauce), and lemon juice. Cover and cook until the liquid has evaporated. Garnish with almonds.