Tonight was one of those nights where I got home late, and after not having dinner at a decent time was forced to rummage through the kitchen to find something quick and edible. Sometimes, when I am lucky, this kind of night has much more pay-off then pain. As was tonight.
So I got home and tried to figure out what to make for dinner. My sister had already eaten, and my mom opted for left over pizza. My dad decided to wait it out and said he would eat whatever I put in front of him. While I considered serving him dog food just to see what would be come of it, I instead decided to create something. So I set to work.
As always, our pantry was stocked with pasta. Then I totally lucked out when I found half a bag of mushrooms and a zucchini in my fridge. Plus, I even had sauce in there! Once I came upon these staples I had settled with the idea to add the veggies to some pasta with some plain ol' tomato sauce. Nothing too crazy, but it would serve it's purpose.
So I was about halfway through making dinner, when I realized there was much less pasta sauce in the jar then I had anticipated. Hardly enough to cover the pasta. Since my vegetables were near done their sauteing I had to act quick. I scoured our lazy susan for some canned tomatoes, tomato paste, anything sauce like. It was then I found the perfect addition. A can of mushroom soup! It would be the perfect addition to bulk up the sauce!
So that is how this dish came to be. Keep in mind that since this recipe was made on the spot, the measurements may not be exact. But this is the type of dish where it really won't matter. Also keep in mind that the quantities can easily be changed to feed more or less hungry mouths.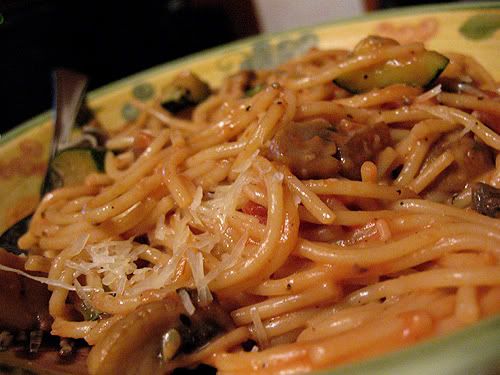 Mushroom Tomato Cream Pasta
Yields 2-3 servings.
1/4 box of pasta (I used Smart Spahgetti.)
1/2 can low fat mushroom soup
1/4 cup of water
1/3 cup of tomato pasta sauce (I used Healthy Choice Garlic Lovers)
1-2 cups of mushrooms, chopped
1 small zucchini, chopped
1 tbsp of oil
freshly ground black pepper (to taste)
parmesan cheese (to garnish, optional)
Start a pot of water boiling for the pasta. Once the water is boiling, add the pasta and cook according to package directions. Meanwhile, clean and chop the veggies. Heat 1 tbsp of oil in a medium frying pan. Add veggies once pan is hot and coat with freshly ground black pepper. A few teaspoons would be a good place to start. I really love my pepper though, so I added a few generous tablespoons to the veggies. Once the veggies have cooked down, add half the can of mushroom soup, and the water. Mix well so that the consistency is nice and smooth. Once your pasta is done, add the veggies and mushroom sauce, as well as the tomato sauce. Garnish with some parmesan, Mix well to coat, and serve!
This dish came out great. It was hearty and filling and tasted amazing. I know it will be one dinner that I see myself coming back to time and time again. Although next time I think I will add some garlic and maybe some parsley to the veggies.